(Close this window when you are finished)
The following script excerpt (seen on Q5) is from Spike Milligan's long out-of-print Q Annual. First published by Michael Joseph in association with M&J Hobbs, 1979. Paperback edition published in Penguin Books, 1980. This out-of-print book is still very plentiful on the used book market (e.g., www.bookfinder.com)
PAKISTANI DALEKS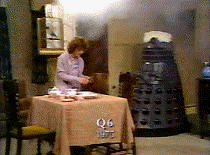 Caption THE ORDINARY WORKING CLASS HOME OF A MIXED PAKISTANI-CHRISTIAN MARRIAGE. IT IS FRIDAY. WIFE IS LAYING THE TABLE. SHE'S ABOUT 40-ISH. MIXED ALONG THE HOUSE ARE TOUCHES OF ISLAMIC INFLUENCES. A BRASS GOD ON THE MANTELPIECE. A PARROT IN CAGE ON STAND. A STUFFED DOG BY FIREPLACE. A GRANNY IS DOZING BY THE FIRE. THE WIFE HUMS A TUNE. THE DOOR TO THE ROOM EXPLODES, AND THROUGH IT COMES A DALEK WITH TURBAN ON AND A FOLDED UMBRELLA HANGING FROM HIS SIDE. WOMAN DOESN'T TURN ROUND.
Dalek (Pakistani accent) Hel-oh, Dar-ling, I-am-back.
Woman You are late tonight.
Dalek The tubes were full of comm-u-ters.
Woman How did you get on then?
Dalek I ext-er-min-ated them.
Woman Oh, no wonder you're tired.
Dalek Yes, ex-ter-min-ating is hard work.
Woman Never mind, I've got a nice cup of curried tea for you. How's Mr Banerjee?
Dalek I ex-ter-min-ated him too.
DOG IN THE GRATE BARKS 'WOOF, WOOF, WOOF'. DALEK POINTS EXTERMINATOR AT HIM. SHOOTS. DOG EXPLODES.
Dalek Put him in the Cur-ry.
SECOND DOOR TO ROOM EXPLODES. A TWO-THIRD SIZE DALEK WITH SCHOOL CAP ON COMES IN. IT AIMS AT A VASE ON MANTELPIECE. IT EXPLODES.
Woman Johnny, have you finish your homework?
Boy Dalek Yes. I de-str-o-yed it.
HE POINTS EXTERMINATOR AT SLEEPING GRANNY.
Woman You've exterminated granny!
Dalek Put her in the Cur-ry.
Parrot Hello, sailor...Hello...
SHOOTS PARROT IN CASE.
Dalek Put him in the Cur-ry.
Woman (to camera) Now you know what's wrong with this country.
ANOTHER EXPLOSION AS TV SET OR SOME OBJECT BEHIND HER EXPLODES. AS WE FADE OUT THE TWO DALEKS DESTROY VARIOUS OBJECTS: CLOCK ON MANTELPIECE, VASES, LAMPSTAND.